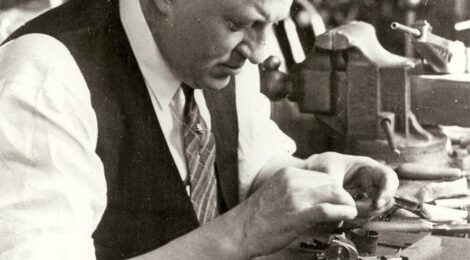 After the OSS was disbanded, the CIA and military operations inherited most of the remaining stock.  As late as 2000, there were still over 400 of the original guns on inventory at CIA Langley.  Several had been issued to Special Ops in Kosovo.
People report coming across them while decommissioning navy ships or in the survival pack of the B-52 bombers.  Dozens spilled out of a 55 gallon oil drum at an American air base in Thailand in 1966 or 1967.  Some were reported in Korean CIA bases.
Many USA Model H-D M/Ss disappeared into duffle bags after the war while some disappeared when the OSS was disbanded.  At least two of those were converted back to USA Model H-Ds.  There are possibly a dozen original M/Ss that were Amnesty registered and are legal for civilian ownership.
Model B and B-US.
Model P-380 (.380 caliber)
Despite the efficiency with the M/S, the OSS wanted a more robust silenced weapon.  The SOE had the Welrod in .32 ACP and in 9mm.  It was quiet, but it was a manually operated, magazine fed, single shot pistol.  The OSS wanted a magazine fed semiautomatic .25, .32 or .380 caliber silenced pistol.  Colt was approached initially, but after negotiations failed the contract went to High Standard.  The contract for 1,000 guns at $57 each was signed on 23 April 1945.  A one month production run was scheduled to begin on 24 August 1945 but there were delays.  The revised date of production was set for 15 September.  The war ended in the interval and the contract was cancelled.  One gun was delivered to the OSS but there may be others.
High Standard was compensated for the contract cancellation and while Swebilius had the balance of frames after the contract was cancelled, he replaced the silencer with a standard .380 barrel and marketed it as the G-380.
.25 Caliber
The prototype suppressed .25 caliber pistol serial number "1" survives.  The silenced .25 caliber pistol disappeared from the inventory near the end of the war but later surfaced and was confiscated by police in New Jersey.  It was transferred to a private collector "in return for favors."
In the 1960s, ATF agents approached Harry Sefried while he was working at his desk at High Standard.  The .25 prototype was on his desk and the agents inquired regarding its ownership.  Sefried replied, "Depends".  "On what?" they asked.  "Well if it's legal its mine, if not it belongs to the company."  While the agents went to the front office to search through the paperwork, Sefried took the pistol to the machine shop, removed the baffles and had the left side of the suppressor milled exposing the ported barrel.  When the agents returned they informed him that the company's Title II paperwork had expired.  They would therefore confiscate it as an illegal silenced pistol.  Sefried protested that it was no longer suppressed as the tube had been milled.  To prove that, he positioned the agents on the milled side of the pistol and fired it.  All present agreed that it was not suppressed and Sefried kept the pistol.  That pistol and the .32 caliber prototype are now privately owned.
Model P-22
The OSS requested another modification.  They wanted a pistol which could be quickly converted from standard commercial to suppressed configuration.  High Standard complied with the quick change lever placed forward of the trigger guard.  By depressing the lever either barrel could be slid forward and removed allowing interchange.  Four prototype .22 calibers were produced in this configuration.  That lever takedown was found on the P (later G)-380 and subsequent G series commercial pistols.
High Standard suppressed Grease gun.
.50 Caliber Browning Machine Gun
As mentioned earlier, Swebilius left Winchester in 1939 to work full time at his new company at about the time war broke out in Europe.  England was in desperate need of all guns and especially machine guns for aircraft.  Swebilius had secured a reputation in the field in the last war and a friend, John Owsley, convinced the British Purchasing Commission that Swebilius could supply the goods.
In November, 1940, the first contract was signed for 12,000 .50 caliber aircraft machine guns and spare parts.  Initial delivery was expected in ten months though Swebilius had nothing.  He had no land, no plant, no men and no tools.  Worse, most tools had already been snatched up by other manufacturers.  Gordon Wilson and Charles Liedke scoured the east coast for any usable machinery buying anything available.  It is reported that they even went to silk weaving factories and bought outdated pieces from storage.  Everything was sent back to the new Waterfront plant in East Haven where Swebilius and his crews reworked the machinery to specifications.
The first machine gun came off the line on 19 April 1941, five months after the contract was signed.  Newspapers and Time magazine wrote articles acclaiming the feat as a miracle.  There is a photo that shows Swebilius by a chrome plated .50 caliber proclaiming it to be the 10,000th off the line seven months ahead of schedule.  There had been only one reject up to that point.  A total of 228,000 guns with extra parts were produced for the Allies and another 25,000 were also refurbished.
United Defense Model 42
Swebilius was a proven genius in design of firearms, especially machine guns.  He designed what was to be the UD 42 prior to World War II.  It was designed to replace the venerable but weighty and labor intensive Thompson .45 caliber submachine gun.  The new gun was designed to fire 750 rounds per minute and quickly convert from the European 9mm cartridge to the American .45 caliber ACP.  It was one of the finest and most innovative firearms designed for World War II.
Applications for patent were submitted October 15, 1940 and four patents were issued to Swebilius for the UD 42.  Another patent was issued to his friend, coworker and High Standard vice president, John Owsley, for his innovative back-to-back style of magazines.
TOP: UD42 submachine gun. BOTTOM: US Model of 1928A1 submachine gun.
Although designed by Swebilius, High Standard was dedicated to barrel and machine gun production and was unable to produce the new weapons.  Marlin won the Netherlands Commission contract and manufactured 15,000 submachine guns for use in Dutch Indonesia.  High Standard received a 10% royalty of $7.50 per gun.
Japan invaded Indonesia before the guns were delivered.  The United States bought all the guns and transferred them to the Office of Strategic Services for overseas use.  All guns were issued except 800 held back by the Dutch.  In 1944, many '42s were airdropped into the European Theater of Operations where they were used with success.  They were also used in the Mediterranean and Far East theaters where they were met with favor.  Later they were used in China and in Africa.
US Army Ordnance informally tested the UD 42 in August 1940 and found it acceptable.  It was resubmitted for formal testing in November, 1941 with suggested modifications.  It was found to be reliable, accurate and controllable.  At about this time, the Ml Thompson had become available.  Ordnance found the UD 42 to have "no requirement."   Development of the .45 caliber version was halted after the production of six prototypes.
In 1948 Marlin acquired exclusive rights to produce the UD 42 with royalty rights to High Standard.  The Netherlands and Argentina expressed some interest but sales never materialized.  The UD 42 was used through the early '70s in Southeast Asia and Africa.  Some made it back to the US but they are not common.  There is rumor of a limited offshore stockpile still in Cosmoline as late as 1998.
Other Swebilius Designed Firearms:
.30 Caliber Carbine
Swebilius designed .30 caliber carbines for infantry use.  The Ordnance Department tested them in both semi and full automatic versions.  The carbines were found to be light, accurate, reliable and easy to maintain.  Although they performed well, the Winchester submission was chosen to become the M1 carbine.
M3 Grease Gun Silencers
In early November, 1942, the Maxim Silencer Company (also located in Hartford) offered to make silencers for .45 caliber M3 submachine guns.  A booklet entitled Design of Silencer for M3 Cal. .45 SMG was completed in November, 1943.  Trials showed that noise was reduced to only a few decibels above the mechanical action of the gun.  In May, 1944 High Standard received a contract to produce 1,000 silencers for $12,970.  Barrels were to be provided by General Motors Guide Lamp division.
After some delay, the first barrels arrived, but were defective as the threads had burrs and thread tolerances were not as specified.  High Standard received a separate contract to remove the burrs.  The first silencers were shipped in August, 1944 and were used in Europe, Southeast Asia and the Pacific theaters to good effect.  Beyond noise suppression, the silencer also reduced barrel flash and rise making the gun more accurate.
Model D.
A second $73,440 contract for 4,000 silencers and barrels was placed in December 1944.  This time the barrels were produced by High Standard.  Shipment was completed by September, 1945.  None of the second contract silencers were issued as there were 4,100 still in stock at the end of the war.  Some were still in storage at the beginning of the Vietnam war.
High Standard also tested the M3 silencer in 9mm but found it unsatisfactory.
Barrels
High Standard Manufacturing Corporation, 1817 Dixwell Ave. Hamden, Connecticut was the pistol company.  In addition to the Model B, Model B-US and USA Model H-D, it also produced barrels for the Model 1919 .30 caliber machine gun, barrels for the model 1911A1 .45 caliber pistol, the 1903, Model 1903A1 .30 caliber rifle with and without sights, the model 1903A3 .30 caliber rifle, Model 1917 .30 caliber rifle barrels and the M2 .50 caliber machine gun.
.45 Caliber Pistol Barrels
High Standard made .45 M1911A1 barrels during WWII under a "Government Free Issue" contract for Remington Rand, Ithaca and US&S as these pistol makers did not make their own barrels.
Production/procurement records show:
Remington Rand: 877,751
Ithaca: 335,467
US&S: 55,000
Total: 1,268,218
Remington and Ithaca used some (a few) Colt barrels in the early production days and some Flannery barrels in 1944 and 1945.  If you estimate they made spares before production was halted at war's end, you can easily argue 1,000,000 to 1,200,000 were made.
Miscellaneous Related Ordnance
High Standard also had contracts for bomb fuse bodies, bomb fuze striker, flash hiders, yoke rod ends, deep hole drills and numerous other small contracts.  They continued to produce machine gun barrels and parts until the 1970s.
High Standard Manufacturing Company. Inc, 1337 Dixwell Avenue, Hamden, Connecticut was the machine gun factory.  There was also a plant at 100 Waterfront in East Haven, Connecticut.
Both of these companies were paying engineering fees to a parent company called Dixwell Corporation, which was controlled by Swebilius.  The officers and directors of all three companies were similar if not the same.
At fiscal year ending November 30, 1945, Swebilius personally owned 127,155 of the 150,000 shares issued (85%) for the pistol company.  With the stock owned by his sons, the controlling percentage rises to almost 89%.
Epilogue
At war's end, Gus Swebilius was second only to movie mogul Louis B. Mayer as the highest paid executive in the United States.  There were charges of war profiteering, though the investigation board not only cleared Swebilius, but commended him for saving the United States government millions of dollars in his contracts and the production methods adopted by other companies.
Swebilius health was failing and he died of throat cancer on October 18, 1948.  After providing for his widow and sons, he left much of his personal fortune to cancer and epilepsy research.  His legacy still provides research grants today.
(Personal correspondence from and special thanks to: John Brunner, Bill Jenkins, Charles Petty, John Stimson, and Bob Waldridge.)
Pages: 1 2